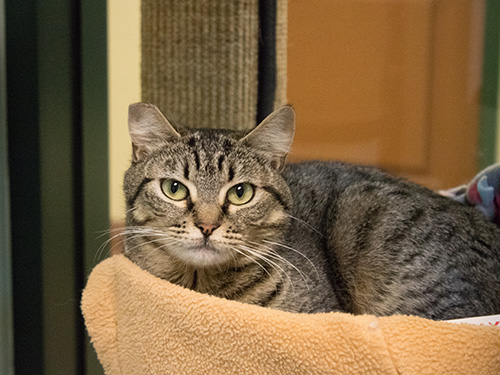 Amanda (A474168)
 "Hi, I'm Amanda! Hey, are you listening? Or did you get lost in my eyes? It's OK, that's been happening a lot lately! I'm definitely a head turner, and on more than one occasion I've noticed volunteers stopping mid-walk and coming over to the glass to see me, as if hypnotized by my eyes. That volunteer with the camera was just here the other day, waving her fingers at me while I stared at her. I'm magnetic! And why wouldn't you want a cat that everyone loves? People will be coming by from far and wide to get a glimpse of me! You'll make so many new friends! But even if that's not true, and we live a quiet life without people lined up at the door to see me, I'LL be your friend. And I think that's pretty great!"
The adoption fee for cats is $90. All cats are spayed or neutered, microchipped, and vaccinated before being adopted.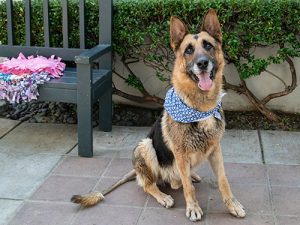 Bruce (A473446)
"It's been summer for WEEKS now, why aren't you wearing a fashionable summer bandana? Hi, I'm Bruce, and as you can clearly see, I have amazing fashion sense! It's not only a great time to show off one's summer apparel, but it's also the perfect time for all my favorite warm weather activities. Whether I'm chasing after tennis balls in the sun, having my ears scratched by the pool, or drinking water from the hose, I'll always look great, no matter what activity I choose. And if you've been wanting some tips to up your bandana game, take me home with you and I'll teach you everything I know! Maybe we can even get matching ones!"
The adoption fee for dogs is $140. All dogs are spayed or neutered, microchipped, and vaccinated before going to their new home.
New adopters will receive a complimentary health-and-wellness exam from VCA Animal Hospitals, as well as a goody bag filled with information about how to care for your pet.
View photos of adoptable pets at pasadenahumane.org. Adoption hours are 11 a.m. to 4 p.m. Sunday; 9 a.m. to 5 p.m. Tuesday through Friday; and 9 a.m. to 4 p.m. Saturday.
Pets may not be available for adoption and cannot be held for potential adopters by phone calls or email.
***Magic appeared this morning (7/16) and transformed some of our cats and kittens into your favorite Harry Pawter characters. Look for the special kennel cards to identify who is part of this mystical transformation. While under the spell these cats adoptions are free. Don't wait, for the spell will disapparate on Sunday, July 28. All other cats and kittens are available for a reduced adoption fee of $25 during this promotion.